Access All Areas »— 1984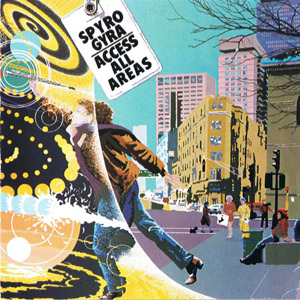 Jay Beckenstein – Saxophones, Lyricon
Tom Schuman- Keyboards
Eli Konikoff – Drums
Kim Stone – Bass
Chet Catallo – Guitar
Dave Samuels – Vibraphone, Marimba
Gerardo Velez – Percussion
Tracks
Shaker Song (6:57) – Jay Beckenstein
Serpent in Paradise (5:52) – Jay Beckenstein
Heliopolis (11:12) – Jay Beckenstein
Harbor Nights (6:52) – Jay Beckenstein
Conversations (8:16) – Tom Schuman
Schu's Blues (4:36) – Tom Schuman
Morning Dance (5:25) – Jay Beckenstein
Islands in the Sky (6:21) – Jeremy Wall
Sea Biscuit (5:22) – All Members
Latin Streets (7:58) – Jorge D'Alto/Gerardo Velez
Produced by: 
Jay Beckenstein and Richard Calandra of Crosseyed Bear Productions
Assistant Producer: 
Jeremy Wall
Management: Phil Brennan
Recorded LIVE in Florida, November 17-19, 1983
Audio Recording by: Le Mobile
Engineers: Michael Barry, Guy Charbonneau
Assistant Engineers: John Penzotti, Cliff Bonnell
Mixed at: BearTracks Recording Studio, New York
Assistant Engineer: John Penzotti
Mastered by: Bob Ludwig at MasterDisk, New York, NY
Illustration: Michael Cobb

Equipment:
Jay Beckenstein played Yamaha alto and soprano saxophones.
Tom Schuman played a Yamaha CP-70, Memory Moog, Multi-Moog, Yamaha GS-2, ProphetV, Moog Liberation and DynaRhodes.
Chet Catallo played a Gibson 335, Gibson 347 and a Gibson Classical guitar.
Kim Stone played a Fender Jazz Bass, an Aria electric bass and a hundred-year-old 3/4 scale acoustic bass.
Eli Konikoff played on a custom Yamaha drum kit with Zildjian cymbals.
Dave Samuels played a Musser Pro 55 vibraphone and a custom Musser 250 marimba.
Gerardo Velez played Latin Percussion congas, timbales and hand-held percussion instruments.
These performances were recorded in Gainesville, St.Petersburg and Orlando on Studer recorders.
——————————————————————————–