Road Scholars »— 1998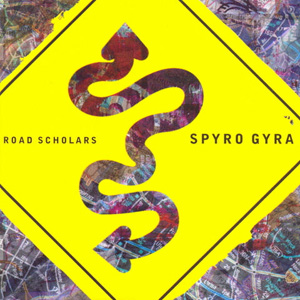 Jay Beckenstein – Saxophones
Tom Schuman – Keyboards
Julio Fernandez – Guitars
Joel Rosenblatt – Drums
Scott Ambush – Bass
Tracks
Heart Of The Night (6:41) – Jay Beckenstein
Breakfast At Igor's (7:20) – Jay Beckenstein/Scott Ambush
Morning Dance (4:16) – Jay Beckenstein
Shaker Song (10:15) – Jay Beckenstein
Shanghai Gumbo (6:28) – Julio Fernandez
Innocent Soul (6:28) – Tom Schuman
South American Sojourn (5:36) – Joel Rosenblatt
Ariana (6:07) – Jeremy Wall
De La Luz (8:24) – Julio Fernandez
Daddy's Got A New Girl Now (6:01) – Jay Beckenstein
Best Friends (4:04) – Scott Kreitzer/Randy Andos
Special Delivery – Jay Beckenstein
Recorded across the USA, March – October 1997
Mixed by: Doug Oberkircher at BearTracks Recording Studio, Suffern, NY
Assistant Engineer: Iain Fraser
Mastered by: Scott Hull at Masterdisk, New York, NY
Production Manager/Lighting Director: John Caron
House Sound Engineer: Al Oestreich
Monitor Engineer/Tape Operator: Bill Heinzlmeir
Drum Tech: Dave Clarke
Tech Talk:
These performances were recorded utilizing synchronized Tascam DA-38 digital recorders in a rack designed and built by Accurate Audio of Rochester, NY. For each show, we recorded thirty-two pre-EQ tracks direct from the stage fed through a modified Crest Century LM20 monitor console .This live digital multi-track recording was then transferred in the studio to analog master tape on Studer A-820's from which it was mixed using a Focusrite console.
Jay Beckenstein played Yamaha YAS-62 and YSS-62 Professional Series saxophones with Van Doren 3 1/2 reeds.
Tom Schuman played a Kurzweil PC-88 MIDIed to a Korg Wavestation SR, a Roland D-50 MIDIed to an Emu E64 a Yamaha DX-7 MIDIed to aKorg M1R and a Korg Prophecy keyboard.
Julio Fernandez played a Washburn MG122ES electric guitar and a Ronaldo custom electric guitar through a Fender Prososonic Amp using the following effects: Rocktron Voodoo Valve Preamp/Multi effects rack, Vox Wahwah pedal, Boss Overdrive, Digital Delay & EQ Pedals, TC Electronics Chorus Pedal and ADA MIDI Control Pedal using a Whirlwind Custom Switching Box. Julio also played a Washburn C104SCE Classical electric guitar.
Joel Rosenblatt played a Tama Starclassic Maple drum kit with Attack heads, Hart Dynamic Triggers, Zildjian cymbals and Vater Power 5A sticks. Joel also played a Dominican percussion instrument called a cajon.
Scott Ambush played an Ambush Custom five string bass featuring Bartolini pickups and electronics. Scott plays through an Eden Navigator Preamp, Eden WT800 amp and 410 XT cabinet . Scott also played an Azola Bug Bass Electric Upright.
All guitars and basses use Dean Markley strings.
Our grateful acknowledgement goes out to ElectroVoice microphones for their assistance.